Zebadia Paul Mmbando, MD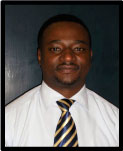 Palliative Care Program Manager
Evangelical Lutheran Church (ELCT), Tanzania
Dr. Paul Mmbando received his MBChB from the Makerere University in Kampala, Uganda in 2002 and his Post Graduate Diploma in Reproductive Health (PGDRH) in 2077 from the Liverpool School of Tropical Medicine, Liverpool, UK. He then received his Masters in Public Health (MPH) in 2010 from the University of the Western Cape, Cape Town, South Africa. Paul is currently manages the palliative care program at the Evangelical Lutheran Church (ELCT), who are responsible for the provision of health services to 15% of the Tanzanian population (approx. 40m people), through a network of 24 hospitals and 146 lower health facilities. ELCT, in partnership with the Foundation for Hospice in Sub-Saharan Africa (FHSSA) and USAID, provide care to both facility and community based clients throughout Tanzania.
Paul also serves as the Deputy Chairperson to the Board of Directors of Tanzania Palliative Care Association. He is involved in the national initiatives to promote the access and use of opioids in the management of severe pain and palliative care conditions. On advocacy issues he is involved in the national committee who are working to develop the palliative curriculum for Tanzania in partnership with APCA. Following these initiatives, for the first time in Tanzania, 16 Hospitals have just received their first permits to procure and use Morphine in the treatment of severe pain and palliative clients. 13 of these hospitals belong to ELCT.
Dr. Mmbando has played a key role through the ELCT's palliative care program and in building good working relationships with APCA and FHSSA.
Help us to expand the resources on this site quickly.
Please send your suggestions to
Technical Issues? Contact gdraeger@sweetthursdayweb.com
Page Last Modified: Fri Jul 29 2011