Dr. Andrew Broadbent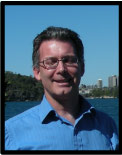 Clinical Director
Hammondcare, Sydney, Australia
Dr Andrew Broadbent is the Clinical Director at Hammondcare, a provider of a comprehensive palliative care service that provides integrated multi-disciplinary care across inpatient, consultative and community services for a population of 800,000 people in the north shores of Sydney in Australia.
Dr. Broadbent completed medical school at Otago University in Dunedin in the south island of New Zealand. He trained as a specialist physician in Sydney, Australia and has both FRACP and the FAChPM from the Royal Australasian College of Physicians, a 6 year training scheme. In addition, he has completed his Masters of Health Management.
His special interests are in service development and education, and is 5 years into redeveloping the service he works in bringing in best practice clinically, in quality assurance, teaching and is actively developing a research and education centre planned for mid-2011.
Help us to expand the resources on this site quickly.
Please send your suggestions to
Technical Issues? Contact gdraeger@sweetthursdayweb.com
Page Last Modified: Fri Jul 29 2011