Christian R. Ntizimira, MD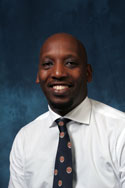 Medical Officer, Department of Internal Medicine, Palliative Care Educator and Trainer of Trainers, Coordinator of First Pediatric Palliative Care Center in Rwanda, Medical Director, Kibagabaga Hospital
Fellow, International Palliative Medicine Fellowship Program, OhioHealth
E-mail: ntiheritier@yahoo.fr, ntiheritier@gmail.com
Dr. Christian R. Ntizimira is Medical Director at Kibagabaga Hospital in Kigali City, Rwanda. He was Coordinator of the first Pediatric Palliative Care Center in Rwanda, and Educator and Trainer of Palliative Care at the national level. His decision to pursue a fellowship in Palliative Medicine was fueled by his passion for a holistic approach and the high rate of chronic disease in his country. Dr. Ntizimira is proud of his hospital and staff who have begun to offer palliative care at Kibagabaga Hospital, the milestone of a holistic approach in Rwanda.
Dr. Ntizimira grew up living in several different places, including the Democratic Republic of Congo. He speaks six languages: Kinyarwanda (mother tongue), Swahili, Lingala, French, English and some Spanish.
Other Appointments:
Member of the steering committee for implementation the National Policy of PC at the MoH
Vice-Chairman of steering committee in charge of Health at District level (Gasabo)
Member of Board committee of District Pharmacy (Gasabo)
Vice-Chairman of Committee for fight against HIV/AIDS at District Level (Gasabo)
Member of steering committee at Kigali city in Charge of Hygiene, Health Sector and Environemental Health
Member of steering committee in charge of Implementation tools for Palliative Care at the MoH
Member of steering committee in charge of NCDs (Cancer & Palliative Care)
Member of board committee in Charge of Health at Sector level (Kimironko)
Coordinator of all programs and activities in health sector at District Level (Gasabo)
Key Accomplishments:
Trained around 240 people at health center, District Hospitals, National level & Students from Family Medicine.
Start the First Palliative Care for Adult in 2010
Integrate Palliative Care as part of the routine activities in all services
Avail Morphine IV or Oral for all patients with Moderate/Severe pain
Set up a linkage in the community for continuum care for patients discharged from the Hospital by the PCAR
Coordinator of the first Pediatric Palliative Care Center in Rwanda in 2009
Education / Honors:
Medical Degree, National University of Rwanda 2010, 1996-2007
Medical Internship in four main departments: Surgery, Internal Medicine, Pediatrics and Ob/Gyn at Teaching Hospitals (CHUK&CHUB), 2007-2008
Harvard Medical School of Medicine Palliative Care Education & Practice Courses, 2011
Certificate of Awards for Developing countries from the AAHPM at New Orleans, 2013
Key Publications:
Title:"Neonatal Mortality in District hospital. A retrospective and descriptive study on 114 Cases in Ruhengeri hospital. September 2007″
Key abstracts:
Co-Authors: [New guidelines, promising outcomes: prevention of mother-to-child transmission (PMTCT) results over two years in Rwanda] to the XIX International AIDS Conference (AIDS 2012), which was taken place from 22-27 July, 2012 in Washington D.C., United States. Abstract #: A-452-0187-15985.
Key Presentations:
New beginnings: Rwanda's first pediatric palliative care center at Kibagabaga Hospital
The situation of Palliative Care in Rwanda, Achievements&Challenges.
Resources:
Subscribe to IPCRC.net
New videos and content are released weekly. Be the first to know and share with your colleagues.
Or text 22828 to "TreatThePain" to join our email list
RSS FEED: RSS Feed
Follow us on:
Donate to the IPM International Programs
Donate to the IPM International Programs
Partners generously supporting the International Palliative Medicine Fellowship Program: