Tamari Gotsiridze (Mother Nino), MD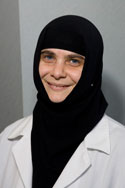 Physician, Transfiguration Convent Mercy House
Executive Director, Transfiguration Convent Mercy Center
Fellow, International Palliative Medicine Fellowship Program, OhioHealth
E-mail: dedaonino@gmail.com
Skype: deda_nino20
Mother Nino received her medical degree at the Georgian State Medical University in 2000. She completed her residency in Family Medicine in December 2010. Mother Nino received additional medical training at the Hungarian Hospice Foundation specializing in pain management and symptom control. She is the Executive Director of the Transfiguration Convent Mercy Center in Tbilisi, Georgia, where she is also a physician.
Key Accomplishments
Founding partner and Executive Director of the Transfiguration Convent Mercy Hospice in Tbilisi, Georgia
Education / Honors:
Residency in Family Medicine, 2010
Master course in Palliative Care, European School of Oncology, Tbilisi, Georgia, 2007
Palliative Care course, Hungarian Hospice Foundation, Budapest, Hungary, 2002 and 2011
Medical Degree, Pediatrics, Tbilisi State Medical University, 2000
Key Publications
Georgian Orthodox Traditions and Spiritual Help for Cancer Patients~ European Journal of Palliative Care, 11th Congress of the European Association for Palliative Care (EAPC), Vienna, Austria, May 2009.
Resources


Transfiguration Convent Mercy House
Subscribe to IPCRC.net
New videos and content are released weekly. Be the first to know and share with your colleagues.
Or text 22828 to "TreatThePain" to join our email list
RSS FEED: RSS Feed
Follow us on:
Donate to the IPM International Programs
Donate to the IPM International Programs
Partners generously supporting the International Palliative Medicine Fellowship Program: