Katerina Georgiade, MD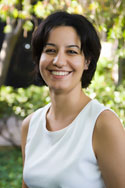 Physician, The Cyprus Association of Cancer Patients and Friends (PASYKAF)
Fellow, International Palliative Medicine Fellowship Program, OhioHealth
E-mail: katergeo@gmail.com
Skype: katerina.georgiade
Dr. Katerina Georgiade graduated from the University of Thessaloniki Medical School in 2008. She has worked in different posts in the United Kingdom and Cyprus, including a post in palliative care at Marie Cure Hospice in Edinburgh. She recognizes the importance of introducing palliative care in the early management of patients, as well as giving patients the opportunity to live their life to the fullest, with dignity, and without distressing symptoms before their death. She believes in a holistic approach to patients and families, and wants to develop the skills to introduce this philosophy to other professionals in Cyprus, where palliative care is still in its early stages.
Education / Honors
Palliative Care Principles in Practice training, San Diego Hospice and the Institute for Palliative Medicine In-Country Training, 2011
Advanced Life Support Course, 2010
Foundation Year 2 Training Post, Queen Margaret Hospital, Fife, Edinburgh Dean, United Kingdom, 2009-2011
Medical Degree, Aristotle University of Thessaloniki, Thessaloniki, Greece, 2008
Resources

Subscribe to IPCRC.net
New videos and content are released weekly. Be the first to know and share with your colleagues.
Or text 22828 to "TreatThePain" to join our email list
RSS FEED: RSS Feed
Follow us on:
Donate to the IPM International Programs
Donate to the IPM International Programs
Partners generously supporting the International Palliative Medicine Fellowship Program: