Mohammad Bushnaq, MD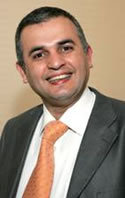 Founder/Director, Jordan Palliative Care Clinic, Bushnaq Training & Developing Center, Jordan
E-mail: drbushnaq@yahoo.com
Skype: mbushnaq1
Facebook: Palliative Care Clinic Jordan
Twitter: Jopalliative
Blog: palliativecarejordan.blogspot.com
Linked-In: palliative-care-clinic-&-training-center
Dr. Bushnaq is the Director of the Jordan Palliative Care Clinic and Bushnaq Training & Developing Center. While at the King Hussein Cancer Center he focused on building their palliative care consultation program. He then decided to open his own private clinic in September of 2010. He is Chairman of the Jordan Palliative Care Society and an active member of Jordan Pain Society where he is able to build palliative care on not just a local level but country wide. Dr. Bushnaq is a temporary adviser on palliative care for EMRO-WHO. He has contributed to many palliative care studies in both Arabic and English. He has become a leader in training nationally and internationally for palliative care, pain management, self-care and burn out.
Download and Read Mohammad's Personal Story (399 KB)
Other Appointments
Hospice and Palliative Care Consultant, King Hussein Cancer Center, Amman, Jordan, 2004-10
Key Accomplishments
Led the National Task Force for Creating National Palliative Care Guidelines, Jordon, 2012
Led the national efforts for the first Jordan Palliative Care and Jordan Conference, 2012
Created the first Palliative Care Undergraduate Training at Hashemite University, 2011
Launched the first Diploma for Palliative Care and Pain Management in Collaboration with Jordan, German University, 2011
Led the initiative to form the Arab Palliative Care Consortium to be formed by 7 Arab countries, 2009
Formed the Jordan Palliative Care and Pain Society that aims to spread the culture of palliative care by training, education and advocacy, 2010
Developed the first comprehensive palliative care program in Jordan at the King Hussein Cancer Center in Amman from 2004 to 2010
Education / Honors
Leader, International Palliative Care Leadership Development Initiative, The Institute for Palliative Medicine at San Diego Hospice, San Diego, CA, USA, 2010-2011
International Palliative Medicine Fellowship, The Institute for Palliative Medicine at San Diego Hospice, San Diego, CA, 2005-07
Jordanian Board in Internal Medicine, Jordan, 2004
Bachelor in Medicine, Istanbul University, Turkey,1995
Key Publications
Journal articles
The Feasibility of Using Intravenous Fentanyl as Sublingual Drops in the Treatment of Incidental Pain in Patients with Cancer. J Palliative Medicine. Volume 12, Number 6, 2009
Palliative Care in Jordan, Culturally Sensitive Experience; J Palliative Med. 2008 Dec;11(10):1292-3
Jordan Palliative Care Initiative: A WHO Demonstration Project 2007. Stjernsward J, Ferris FD, Khleif SN, Jamous W, Treish IM, Milhem M, Bushnaq M, Alkhateeb A, Al Shtiat MN, Wheeler MS, Alwan A. J Pain Symptom Manage. 2007 May; 33(5):628-633. PMID: 17482059
Books
Key Points in Internal Medicine, 700 Questions in Internal Medicine (2007). Published by 'Express', and targeted for residents of internal medicine in the Middle East as a quick referral in preparing for oral exams.
Pain Guidelines; Pain Guidelines book in Arabic
6 Steps in Dealing with Diseases and Crisis, in Arabic
Using Fentanyl Injection Sublingually For Pain Relief in Cancer Patients; Palliative Care Conference- Riyadh- KSA. Dec, 2011
Burnout among Health Care Workers; Palliative Care Conference, Riyadh- KSA, Dec, 2011
Breaking Bad News, Hashimate University, Jordan, Mar, 2010
Spiritual Assessment and Approach, Jordan Medical Society, Oct, 2010
Palliative Care in Jordan-a WHO Demonstration Project, Breast Health Global Initiative, Chicago, June, 2010
Three day workshop in palliative care, KHCC,-Jordan, Oct, 2009
The Evolution of Palliative Care, Al-Mansourah University, Egypt, Nov, 2009
Spiritual Care in Palliative Medicine, Islamic Hospital, Jordan, March, 2007
Pain Management, Islamic Hospital, Jordan, Sep, 2007
Palliative Care in KHCC, 'The Best Way to Predict the Future is to Create It', European Conference on Palliative Care, Belgrade, Serbia, Oct, 2005
Palliative Care Principles and Practice, World Day of Palliative Care, Jordan, Oct, 2005
Specialization in Palliative Care, MECC (Middle East Cancer Consortium), Cyprus, Nov, 2005
Palliative Care In Jordan – Implementing Palliative Care Program in a Developing Country, San Diego Hospice and Palliative Care, California, USA, Jan, 2004
Resources

Read About Other International Leaders
Subscribe to IPCRC.net
New videos and content are released weekly. Be the first to know and share with your colleagues.
Or text 22828 to "TreatThePain" to join our email list
RSS FEED: RSS Feed
Follow us on:
Donate to the IPM International Programs
Donate to the IPM International Programs
Partners generously supporting the International Leadership Development Initiative: