Ali Xhixha, MD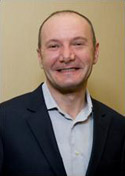 Ryder Albania Association
Tirana, Albania
E-mail: alixhixha@yahoo.com
Skype: alixhixha
Dr. Ali Xhixha is currently developing strategies for integrating palliative care into the Albanian healthcare system. He has engaged and contributed broadly to multiple palliative care activities in Albania, particularly related to patient and family care.
Download and Read Ali's Personal Story 200 KB
Other Appointments:
Medical Team Leader, Ryder Albania Association, Tirana, Albania
Member and contributor to National Palliative Care Association
Member of National Association of Pain
Key Accomplishments:
For more than 13 years has cared for cancer patients and families.
Contributed to the creation of the first hospice in Albania, 2003
Expert in the working group of drafting Standards for Palliative Care now adopted from Ministry of Health
Expert in the working group for the Strategy and Action Plan of Palliative Care in Albania.
Expert in the working group for drafting the Law for Palliative Care
Expert in the working group of the initiatives for the curricula's and 1 year specialization in Palliative Care
Moderator and facilitator in the projects with Regional Hospitals in Albania
Lecturer in all trainings and courses for Palliative Care
Education / Honors:
Graduate, International Palliative Care Leadership Development Initiative, The Institute for Palliative Medicine at San Diego Hospice, San Diego, CA, and OhioHealth, Columbus, Ohio, USA, 2012-2014
Education in Palliative Care and End of Life, Salzburg, Austria, 2004
Graduate, General Medicine, "Mother Teresa" University, Tirana, 1991-1997
Key Publications:
Articles
Rama R, Sallaku A, Prifti F, Xhixha A. Palliative Care in Albania, the current situation and development prospective. Revista Mjekesore 2011(2): 19-29.
Xhixha A, Rama R, Radbruch L. Reducing barriers to pain management in Albania-results from educational seminar with family doctors J.P.M 2013 Jul;16(7):758-61
Books
Prifti F, Huta K, Xhixha A, Rama R, Sorra L, Laska I. Keshilla per perkujdesjen ne te smuret terminale.
Keshilla Praktike per Familiaret. Tirana, May 2011.
Prifti F, Xhixha A, Rama R, Sorra L, Karoli E, Laska I. Manuali I Kujdesit Paliativ. Tirana, March 2011.
Prifti F, Huta K, Xhixha A, Sollaku A Opioidet dhe opiofobia Tirana, 2012
Resources:

Read About Other International Leaders
Subscribe to IPCRC.net
New videos and content are released weekly. Be the first to know and share with your colleagues.
Or text 22828 to "TreatThePain" to join our email list
RSS FEED: RSS Feed
Follow us on:
Donate to the IPM International Programs
Donate to the IPM International Programs
Partners generously supporting the International Leadership Development Initiative: