Dinesh Chandra Goswami, MD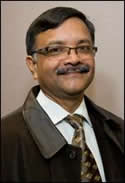 CEO, Guwahati Pain & Palliative Care Society, India
E-mail: goswamidcg@gmail.com
Skype: dcgoswami
Dr. Dinesh Chandra Goswami is working to improve end of life care and increasing the availability of palliative care services in India. He continues to train and provide education in the area of palliative medicine and increase the availability of opioid's in his country.
Download and Read Dinesh's Personal Story (250 KB)
Other Appointments:
Consultant, Sacred Heart Hospital, Guwahati
Consultant in Nightingale Hospital and Central Nursing Home, Guwahati
Member of the National Task Force for WHO Project in Palliative care in India
National Faculty for Education and Training in Palliative Care of IAPC
Key Accomplishments:
Presented paper & poster at EAPC, Prague, 2013
Presented poster at Indian Cancer congress, New Delhi in Nov, 2013
Presented paper on Dignity psychotherapy at 19th International Congress on Palliative care, Montreal in October 2012
Board member of Indian Association of Palliative Care, Current
Past Secretary of Indian Association of Palliative Care, 2005-2008
Past Board member of Asia Pacific hospice Network, 2006-2008
Organized National conference of Palliative Care in Guwahati, 2005
Education / Honors:
Graduate, International Palliative Care Leadership Development Initiative, The Institute for Palliative Medicine at San Diego Hospice, San Diego, CA, and OhioHealth, Columbus, Ohio, USA, 2012-2014
Developing country scholar for AAHPM assembly, 2013 in New Orleans, USA
Blog: www.palliativecarene.wordpress.com
Effecting change in attitude of professional & public through my blog (My Pal care blog-net) & www.dineshchandragoswamiblogspot.inTelevision talk on July 2013 (http://youtu.be/ukVojmSkwuEhttp://youtu.be/ukVojmSkwuE)
Recipient of UICC APCASOT Fellowship, 2012
Graduate Certificate in Palliative Care from Flinders University, Australia, 2008
MD in Anesthesiology from Guwahati Medical College, 1988
Key Publications:
A journey Towards Hospice Care, Journal of Pain & Palliative Care Pharmacotherapy 2012:26:57-58
A Reflective Study of Symptom Management in Terminal Cancer, Journal of Pain & Palliative Care Pharmacotherapy 2012;26:274-277
Understanding Self-awareness in Palliative Care, Journal of Pain & Palliative Care Pharmacotherapy, 2013, 27:1-3
Books: Goswami DC, Bora H. (2005) Communication in Cancer Care.
Guwahati. Guwahati Pain and Palliative Care Society.
Goswami DC. (2011) Palliative Cancer Care. Guwahati Lakshmi Prakashan.
Key Presentations:
Presented lecture on 'Challenges in offering Spiritual Care' in IAPC Conference in Bhubaneswar in Feb, 2014
Palliative Care and Self-awareness. Clinical Society Cancer Institute, Guwahati, India, May 2011.
Dignity Therapy-alternative way to manage collusion at the end of life. IAPC National Conference in Trichy, India, February, 2010.
Management of Transition from Curative to Palliative – Indian Experience. APHN Conference, Perth, Australia, September, 2009
Resources:

Read About Other International Leaders
Subscribe to IPCRC.net
New videos and content are released weekly. Be the first to know and share with your colleagues.
Or text 22828 to "TreatThePain" to join our email list
RSS FEED: RSS Feed
Follow us on:
Donate to the IPM International Programs
Donate to the IPM International Programs
Partners generously supporting the International Leadership Development Initiative: