Esther Ngunju Cege-Munyoro, MD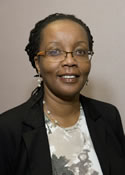 Coordinator, Palliative Care Unit
Kenyatta National Hospital
Nairobi, Kenya
E-mail: drcege@wananchi.com
Dr Munyoro coordinates the palliative care unit at the Kenyatta National Hospital, Nairobi, Kenya. The unit serves to offer palliative care education to all local healthcare workers. She is particularly interested in improving pain management for both adults and children, especially those with life threatening illnesses for whom a good quality of life is a priority. She has lectured in various venues in Kenya and hopes to get Pain and Palliative care curriculums offered to all healthcare workers in Kenya.
Download and Read Esther's Personal Story (200 KB)
Other Appointments
Member; Hospital Transfusion Committee, Kenyatta National Hospital
Board Member and Vice Chairperson, 'Hope for Cancer Kids' a group that lobbies for the welfare of children with cancer
Key Accomplishments
Co-Founder/Coordinator, Palliative Care Unit Kenyatta National Hospital; first Palliative care unit in a government hospital, 2007
Consultant, Introduction and offering support for the use of Oral Morphine in the Burns Unit at Kenyatta National hospital
Education / Honors
Graduate, International Palliative Care Leadership Development Initiative, The Institute for Palliative Medicine at San Diego Hospice, San Diego, CA, and OhioHealth, Columbus, Ohio, USA, 2012-2014
Trainer of End-of- life Nursing Education Consortium (ELNEC) International Training Program, 2009
Multi-professional Week in Palliative Care St Christopher's Hospice London, 2006
Post-graduate training University of Cardiff Diploma in Palliative Medicine
Post-graduate training, University of Nairobi Medical School Department of Surgery, 1991
Medical Degree, University of Nairobi Medical School, 1985
Key Publications
Journal articles:
CEGE E.M 2008. Palliative Care in Kenya; Making it real. The Nairobi Hospital Proceedings Volume 11 , No 2 , April/ June 2008
Technical person on a research project. Quality of Life in Cancer patients in Kenya. Lead researcher Dr Zipporah Ali.
Technical person on a research on Quality of life in cancer patients with cancer wounds. Lead researcher Joyce Marete.
Key Presentations
Salzburg Open Medical Institute & Open Society Foundations Seminar in Palliative Care in Cancer, September 2010.
Joint paper, A focus on Essential Pain Medication Accessibility; the Kenyan Situation, at the Advocacy Workshop for Palliative Care in Africa; Jun 27th – 29th 2006. Oral Presentation.

Read About Other International Leaders
Subscribe to IPCRC.net
New videos and content are released weekly. Be the first to know and share with your colleagues.
Or text 22828 to "TreatThePain" to join our email list
RSS FEED: RSS Feed
Follow us on:
Donate to the IPM International Programs
Donate to the IPM International Programs
Partners generously supporting the International Leadership Development Initiative: