Daniela Mosoiu, MD, PhD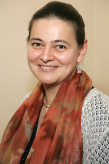 National Director for Education, Strategy and Development, Hospice Casa Sperantei Foundation, Brasov, Romania
E-mail: Daniela.mosoiu@hospice.ro
Skype: Daniela.mosoiu
As the Director for National Education, Strategy and Development, at Hospice "Casa Sperantei" Foundation, Dr Daniela Mosoiu has been part of the leadership who lead the way to over 11.000 cared for patients in four Romanian locations (of which 2 rural) and over 12.000 medical and non-medical staff being trained from multiple countries, from Romania, Moldova, Serbia, Ukraine, Russia, Bulgaria , Greece, Macedonia, Armenia, Kosovo to Albania, Uzbekistan, Tajikistan, Kazakhstan, Kyrgyzstan, Czech Republic, Georgia, Hungary, and Poland. In her role as the National Coordinator for the Romanian Palliative Care Subspecialty course, she is working with health authorities and legislators to foster development of palliative care services and integration in the national health care system.
Resources

Read About Other International Leaders
Subscribe to IPCRC.net
New videos and content are released weekly. Be the first to know and share with your colleagues.
Or text 22828 to "TreatThePain" to join our email list
RSS FEED: RSS Feed
Follow us on:
Donate to the IPM International Programs
Donate to the IPM International Programs
Partners generously supporting the International Leadership Development Initiative: