Samuel Guma, MD, MPH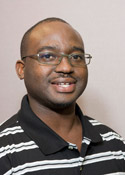 Executive Director, Kawempe Home Care, Kampala, Uganda
E-mail: sguma08@gmail.com
Skype: samuel.guma
Dr. Samuel Guma is the Executive Director and one of the founding members of Kawempe Home Care, a private non-profit charity organization that was started in July 2007 by a group of devoted health professionals to provide free comprehensive care to people with HIV/AIDS and Cancer in Kawempe division Kampala, Uganda. Their focus is to ensure constant improvement to the quality of life of their patients through the provision of compassionate holistic care by a multidisciplinary team of health professionals. Their Core values are Honesty, Integrity, Non-Discrimination, Compassion and Excellence. His future goals are to be actively involved in spreading palliative care all over Africa through project development, research and training of health professionals. He also hopes to develop the organization into a center of excellence for provision of home based palliative care and home based palliative care training center for health professionals.
Download and Read Samuel's Personal Story (200 KB)
Other Appointments
Training Consultant for African Palliative Care Association
Board member, Palliative Care Association of Uganda
Lecturer in Research Methods at the Uganda Christian University, Mukono.
Associate with Mukooza and Biraro Consult, a private public health company
Key Accomplishments
13 years of experience in providing palliative care
Founder member of Kawempe Home Care, introduced the concepts of palliative care in our clinical practice
Palliative care consultant for African Palliative Care Association
Education / Honors
Graduate, International Palliative Care Leadership Development Initiative, The Institute for Palliative Medicine at San Diego Hospice, San Diego, CA, and OhioHealth, Columbus, Ohio, USA, 2012-2014
Master's in Public Health, University of Limpopo, Medunsa Campus, Pretoria, South Africa, 2009
Diploma in Project Planning and Management, Mbarara University of Science and Technology, 2006
Certificate in Palliative Medicine, Health professionals course, Hospice Africa Uganda, 2001
Bachelors of Medicine and Bachelors of Surgery, Makerere University Kampala, 1999
Key Publications
Journal of Acquired immune deficiency syndrome, Chang,W.L, Alamo, S, Guma,S, Christopher,J, Suntoke,T, Omasete,R, Montis,J.P., Quinn,T.C.,Margrethe, J and Reynolds,S.J.(2009) Two year Virologic Outcomes of an alternative AIDS care Model: Evaluation of a peer health worker and Nurse staffed community based program in Uganda. Journal of AIDS 2009
International AIDS conference, Toronto 2006. Nurse based care scores remarkable success at Reach Out. (Poster Presentation)
Key Presentations
BBC world television, documentary on the use of Oral Morphine in Africa for pain control in HIV/AIDS and Cancer, May, 2008
Palliative Care Association of Uganda (PCAU), a talk on the role of palliative care in Head and Neck cancers, November, 2003
British Broadcasting Corporation (B.B.C), radio interview on providing palliative care for the terminally ill HIV/AIDS and Cancer patients and their families in Uganda, September, 2003
Radio Uganda talk show on understanding cancer and on the 10th anniversary of palliative care in Uganda, September 2003
Central Broadcasting Service (CBS) radio talk show on Understanding Cervical Cancer, April 2002
Resources

Read About Other International Leaders
Subscribe to IPCRC.net
New videos and content are released weekly. Be the first to know and share with your colleagues.
Or text 22828 to "TreatThePain" to join our email list
RSS FEED: RSS Feed
Follow us on:
Donate to the IPM International Programs
Donate to the IPM International Programs
Partners generously supporting the International Leadership Development Initiative: