Charmaine Blanchard, MD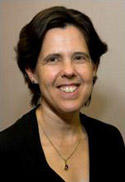 Head of Centre of Excellence for Palliative Care, Chris Hani Baragwanath Academic Hospital, Soweto, Johannesburg, South Africa
E-mail: vervet@iafrica.com
Skype: Charmaine Blanchard
Dr. Charmaine Blanchard is aiming to strengthen the clinical palliative care service at the Chris Hani hospital as well as initiating and supporting palliative care services at the district and primary care levels in our area. She would like to see this become a model for implementation of palliative care services in other districts in South Africa. In addition, the centre is involved in teaching undergraduate medical students as well as family medicine registrars in palliative medicine. She hopes to see this teaching expanded to other specialties. Her personal special interest is in the spiritual care of patients and of healthcare workers involved in palliative care. She also has a special interest in the preparation of medical students (emotionally and spiritually) for dealing with the emotional demands of caring for ill people.
Download and Read Charmaine's Personal Story 200 KB
Other Appointments
Senior Lecturer. Faculty of Health Sciences. University of Witwatersrand
Key Accomplishments
Established the Gauteng Palliative Care Doctors' Group in Gauteng in collaboration with Dr. Trish Luck of Big Shoes Foundation in Johannesburg. A support group for doctors working in palliative care in Gauteng to exchange information and ideas and to debrief on a monthly basis.
Education / Honors
Graduate, International Palliative Care Leadership Development Initiative, The Institute for Palliative Medicine at San Diego Hospice, San Diego, CA, and OhioHealth, Columbus, Ohio, USA, 2012-2014
Higher Certificate in Management at the Foundation for Professional Development, South Africa, 2010
Master of Philosophy in Palliative Medicine at University of Cape Town, Graduated 2009
Postgraduate Diploma in Palliative Medicine at University of Cape Town, Graduated 2004
MBBCh at University of Witwatersrand, Graduated 1998
Bachelor of Science (Honours) at University of Witwatersrand. Graduated 1993
Key Publications
Journal article
Blanchard C. Spiritual Aspects of Palliative Care. Continuing Medical Education 2011 Volume 9 No. 7
Key Presentations
Cervical Cancer and Palliative Care, Dr Charmaine Blanchard, Caring for Women with HIV. Johannesburg, South Africa, July 19 2011
Validating the FICA spiritual assessment tool in South Africa Dr Charmaine Blanchard and Workshop on the use of the FICA spiritual assessment tool. Dr Charmaine Blanchard and Rev Michelle Pilet at the Palliative Care – Mind, Body and Spirit International Conference, Hospice and Palliative Care Association of South Africa. South Africa: Cape Town, 2-4 December 2005

Read About Other International Leaders
Subscribe to IPCRC.net
New videos and content are released weekly. Be the first to know and share with your colleagues.
Or text 22828 to "TreatThePain" to join our email list
RSS FEED: RSS Feed
Follow us on:
Donate to the IPM International Programs
Donate to the IPM International Programs
Partners generously supporting the International Leadership Development Initiative: