Roberto Wenk, MD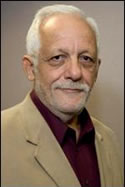 Program Director, Fundamentals of Palliative Medicine Paliativa of the Fu FEMEBA Buenos Aires, Argentina
E-mail: roberto.wenk@gmail.com
Skype: roberto_daniel_wenk
Dr. Roberto Wenk actively promotes palliative care in primary care settings. Currently, he is developing a new and improved approach to education and management of palliative care. He has made numerous visits to the International Centers of Excellence in Palliative Medicine for many years as well as treating patients in their homes. Home care visits are part of his routine also known as.' The Bus Rounds'. Activity takes place in a bus while visiting patients in their homes and facilities. The service also provides interdisciplinary, theoretical and practical activity for primary care physicians and nurses.
Other Appointments:
International Associate Faculty, The Institute for Palliative Medicine at San Diego Hospice, San Diego, California, USA, 2012 to present
International Associate Faculty and Mentor, International Palliative Care Leadership Development Initiative, The Institute for Palliative Medicine at San Diego Hospice, San Diego, California, USA, 2012 to present
Chairman, Board of Directors, International Association for Hospice and Palliative Care (IAHPC), Houston, USA
Professor of Palliative Medicine; School of Medicine, Universidad Austral, Argentina
Volunteer in the Palliative Care Service of the Liga Argentina de Lucha contra el Cancer (LALCEC) San Nicolás, Argentina.
Key Accomplishments:
On-line palliative education for physicians and nurses, with optional bedside practice, since 2005.
Development and use of an on-line clinical database to collect demographic and epidemiologic information on patients and families that receive palliative care within our program.
Education / Honors:
Diploma in Anesthesiology, College of Medicine in Rosario, Argentina, 1974
Medical Degree, National University in Rosario, Argentina, 1972
Key Publications:
E., Bennett M., Nekolaichuk C., De Lima L., Wenk R., Ripamonti C., and Bruera E., Strategic Pain Management Vignaroli: The Identification and Development of the IAHPC Opioid Essential Prescription Package. J., Palliat Med (2011) Oct 20. http://www.liebertonline.com/doi/pdfplus/10.1089/jpm.2011.0296
Resources:

Read About Other International Leaders
Subscribe to IPCRC.net
New videos and content are released weekly. Be the first to know and share with your colleagues.
Or text 22828 to "TreatThePain" to join our email list
RSS FEED: RSS Feed
Follow us on:
Donate to the IPM International Programs
Donate to the IPM International Programs
Partners generously supporting the International Leadership Development Initiative: