Anjum S Khan Joad, MD, DNB, MNAMS, GPC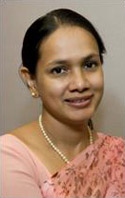 Coordinator Department Anesthesia, Pain and Palliative Medicine Bhagwan Mahaveer Cancer Hospital and Research Centre
Jaipur, India
E-mail: anjumjoad@gmail.com
Skype: anjumjoad
Dr Anjum Khan Joad coordinates the palliative care unit at the, Bhagwan Mahaveer Cancer Hospital and Research Centre, Jaipur, India. The unit serves to offer palliative care education to all doctors and nurses in the local area. She is particularly interested in improving pain management for both adults and children, especially those with life threatening illnesses for whom a good quality of life is a priority. She has lectured in various venues in India and hopes to get Pain and Palliative care curriculums offered to all healthcare workers in India.
Download and Read Anjum's Personal Story 150 KB
Other Appointments
Member, Executive Council, Indian Association of Palliative Care, current
Key Accomplishments
Member, Indian Society for the Study of Pain (ISSP)
Started the training of doctors and nurses in Palliative Care for the first time in the state of Rajasthan, 2005
Established the state's first Comprehensive Palliative Care Centre in Bhagwan Mahaveer Cancer Hospital and Research Centre in Jaipur, India, 1997
Started the Jaipur Course in Palliative Medicine and Nursing from 2013 –the only course in North India
Education / Honors
Graduate, International Palliative Care Leadership Development Initiative, The Institute for Palliative Medicine at San Diego Hospice, San Diego, CA, and OhioHealth, Columbus, Ohio, USA, 2012-2014
Cancer Pain Management – University of Sydney, Australia, 2003
Member of National Academy of Medical Sciences (MNAMS), 2003
Diplomat of National Board (DNB) in Anesthesiology, 1995
D. Ac, Diploma in Acupuncture, Indian Institute of Acupuncture Research and Training, Jaipur, 1999
M.D. (Anesthesiology) BJMC and Sassoon General Hospital, Poona, India, 1994
M.B.,B.S. Byramjee Jeejeebhoy Medical College (BJMC), Poona, India, 1992
Key Publications
Does the cancer patient want to know? Results from a study in an Indian tertiary cancer center, South Asian Journal of Cancer, 2013:57-61
Epidural Clonidine for postoperative pain after lower abdominal surgery: A dose response study, Indian Journal of Pain, 2013:67-71
What does the informal caregiver of a terminally ill cancer patient need? A study from a cancer centre. Indian J Palliat Care 2011;17:191-6.
Acute post mastectomy pain: A double blind randomised controlled trial of intravenous tramadol versus irrigation of surgical drains with bupivacaine Indian Journal of anesthesia 2008
Efficacy and Safety of local anesthetic irrigation versus tramadol in acute post mastectomy pain. Indpain, June 2007
Pain Profile in patients of advanced head and neck cancer seen at a Pain Clinic in Jaipur – Published in Indpain Vol 15, Fall 2001,18-27
Intravenous Lignocaine Infusion for Treatment of Neuropathic Pain in Cancer patients Indian Journal of Anesthesia, 2002; 46(5): 360-364
Key Presentations
Palliative Care in Cancer, ISACON,2009, Jodhpur
Needs of caregivers of terminally ill cancer patients seen at a centre in Jaipur. Poster presentation, UICC, 2008 Geneva
Survey on the Palliative Care Services in Rajasthan, Chennai, Poster, Feb. 2006
Interventions in the Management of Cancer Pain. Pain and End-of-Life workshop, EPEC, Jaipur, Apr, 2005
Current Concepts in Acute and Chronic Cancer Pain, 50th Anniversary of ISA, Coimbatore, Dec 2002
Cancer Pain – National Update on Recent Advances in Cancer Diagnosis and Management, Jaipur, Apr 1999
Resources

Read About Other International Leaders
Subscribe to IPCRC.net
New videos and content are released weekly. Be the first to know and share with your colleagues.
Or text 22828 to "TreatThePain" to join our email list
RSS FEED: RSS Feed
Follow us on:
Donate to the IPM International Programs
Donate to the IPM International Programs
Partners generously supporting the International Leadership Development Initiative: