Rumana Dowla, MBBS, MPH, DipPallMed(UK), APHN DipPallMed (Singapore)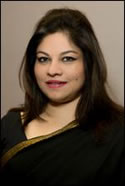 Founder / Chairperson, Bangladesh Palliative
and Supportive Care Foundation
Dhaka, Bangladesh
E-mail: rumanadowla@hotmail.com
Skype: rumana.dowla
Dr. Rumana Dowla's vision is to create a palliative care service which is culturally acceptable, appropriate, sustainable and affordable for the people of Bangladesh. She believes this vision can be realized by building a strong "Network" between existing health care providers and palliative trained personnel along with community participation through awareness and training of interdisciplinary groups of physicians, nurses, social workers, volunteers etc.. Public Health and Palliative Care can create an ideal integrated community based service for people with life limiting conditions.
Download and Read Rumana's Personal Story (200 KB)
Other Appointments
External Faculty, Bangabandhu Sheikh Mujib Medical University Hospital, Dhaka, Bangladesh
Consultant, Palliative Medicine, United Hospital, Dhaka, Bangladesh
Hon. Consultant, Palliative Medicine National Institute of Cancer Research Hospital, Dhaka, Bangladesh
Key Accomplishments
Instituted the Nurse Aide training at Bangladesh Palliative And Supportive Care Foundation, 2012
Inauguration of Palliative Care Beds (four beds) at NICRH (National Institute of Cancer Research and Hospital) by Honourable Health Minister Prof Ruhul Haque – instrumental in designing the care along with Director NICRH
Human Chain at Press Club to celebrate 'World Hospice And Palliative Care Day' and coordinated CME at NICRH, Oct. 2011
Coordinated Press Conference and CME programmes 'Palliative Care in Developing Country' and 'Developing Palliative Medicine in Bangladesh,' 2011
Palliative Care Awareness programme with the Rotarians at Dhaka Sheraton, 2010
Founder / Chairperson, Bangladesh Palliative and Supportive Care Foundation, 2010
Coordinated UICC workshop on Childhood Cancer and Palliative Care at four hospitals in Dhaka and two Districts in Bangladesh, 2007
One Day Introduction to Palliative Care organized with ASHIC Foundation, 2006
Education / Honors
Graduate, International Palliative Care Leadership Development Initiative, The Institute for Palliative Medicine at San Diego Hospice, San Diego, CA, and OhioHealth, Columbus, Ohio, USA, 2012-2014
Recipient of Who's Who 'Women Leaders', 2011
First place in debate IAPCON2011 at Lucknow, India (Topic: Euthanasia), 2011
MSc Palliative Medicine Phase III (Thesis), Cardiff University, UK, 2010
Diploma Palliative Medicine, Cardiff University, UK, 2009-2010
First place in debate at IAPCON2009 in New Delhi, India (Topic: Morphine addiction), 2009
Commonwealth Scholarship for MSc Palliative Medicine, Cardiff, UK, 2008
APHN Diploma in Palliative Medicine, Asia Pacific Hospice Network, Dept. of Palliative Medicine at
National Cancer Centre, Singapore, 2007
Grad Cert (PALLCARE) Graduate Certificate in Palliative Medicine, Flinders University, Adelaide Australia (joint initiative with National Cancer Centre, Singapore), 2006-2007
APHN-Lien Foundation Fellowship Scholarship, Flinders, Australia, 2006
MPH (Masters in Public Health) Community Medicine. (CM), NIPSOM (National Institute For Preventive and Social Medicine), Dhaka, Bangladesh, 2003-2004
Core-Module, MSc (Masters of Science )Mother and Child Health (MCH), CICH (Centre for International Child Health), ICH, UCL(University College of London); London, UK, 2002
MBBS (Bachelor of medicine and bachelor of surgery), LHMC (Lady Hardinge Medical College), New Delhi, India, 1985-1989
Key Publications
Journal articles
Love R,Hossain M, Dowla R at.al .Clinical practice guidelines for breast cancer in Bangladesh .Cancer Control.2009; Vol.5(2) pp 9-11.
Dowla R, Akhter P.S.kamal.M. Introduction to Pain and Palliative Care Unit at Medical Oncology of NICRH 2006-2007
Dissertation : Knowledge regarding diabetes mellitus under 18 years-An intervention study; NIPSOM 2004
Key Presentations
Amader Gram Breast Cancer Palliation – Phase I at Oncology update at NICRH, December, 2011
Overview of Palliative Care in Bangladesh at NICRH, October, 2011
Audit of Pain and Palliative Unit at NICRH Dhaka, at Public Health Palliative Care Conference, Dhaka, 2011
Pain and Palliative care unit – 10 month report JBPCON, November, 2008
Introduction to Pain and Palliative Care unit at WHO-NICRH seminar, May, 2008
Knowledge Regarding Diabetes Mellitus in children below 18; An Intervention study, Diabetes and Endocrine Conference, 2006
Audit of Pain and Palliative Unit in Dhaka at IAPCON – Lucknow, 2011
AmaderGram Breast Cancer palliation Study Phase I – Dowla R, Ahmed I-Penang, APHC, 2010
Pain and Palliative Care Unit -20 month Report – IAPCON, New Delhi, India, 2009
Pain and Palliative Care Unit -10 month report KOCHIPALLCON, Kochin, India, 2008
Education in Children with diabetes mellitus, Paed. Diabetology, Singapore, 2005
Resources

Read About Other International Leaders
Subscribe to IPCRC.net
New videos and content are released weekly. Be the first to know and share with your colleagues.
Or text 22828 to "TreatThePain" to join our email list
RSS FEED: RSS Feed
Follow us on:
Donate to the IPM International Programs
Donate to the IPM International Programs
Partners generously supporting the International Leadership Development Initiative: