David Cameron, MB ChB, M Prax Med, M Phil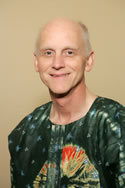 Associate Professor, Department of Family Medicine, University of Pretoria, South Africa
E-mail: david.cameron@up.ac.za, camerons@netactive.co.za
Skype: david.cameron17
Dr. Cameron's main professional interests are mentoring and medical education. He is a medical educational consultant to the Foundation for Professional Development. He is involved in palliative care in a number of ways. He teaches palliative care to medical students and does voluntary work at the local hospice. One of the interesting projects that he is involved in at the moment is in geriatric palliative care. He is assisting his wife in developing an educational and mentoring project for improving End–of-Life care in residential homes for the elderly. He is particularly interested in the appropriate and safe use of medication and in improving decision making with regards to the admission to hospital of dying elderly residents.
Other Appointments
Senior Consultant, Foundation for Professional Development (FPD), Pretoria, 2011-present
Chair of the Research Ethics Committee for the FPD, 2011-present
Honorary Consultant, Sungardens Hospice, Pretoria, 1987-present
Key Accomplishments
Project leader for FPD assisting the National Department of Health to develop the curriculum and train 5000 Community Health Workers, July 2011-present
Developed the first South African Guidelines for Providing Palliative Care to Patients with Tuberculosis, May 2011
Associate Faculty and Mentor, International Palliative Care Leadership Development Initiative, The Institute for Palliative Medicine at San Diego Hospice, San Diego, 2010-2011
Certificates for Education Innovation from the Department of Education Innovation, University of Pretoria, for the development of a community based experiential learning course for senior medical students, November 2008 & 2010
Recipient of Rotary Award: Elected as a Paul Harris Fellow for voluntary service since 1987 to Sungardens Hospice, 1999
Education / Honors
M Phil (Palliative Medicine) University of Cape Town, 2002
Fellow of the College of Family Physician of South Africa, 2008
Masters Degree in Family Medicine (M Prax Med) Medical University of South Africa, 1983
Medical Degree (MB ChB) University of Cape Town, 1973
Key Publications
Cameron DA, Gerber A, Swart H, Mutyabule J & Mbatha M. Nurse-Initiation and Maintenance of patients on Antiretroviral Therapy in South Africa: An exploration of Key Barriers and Enablers. S Afr Med J 2012;102:98-100
Cameron DA, Cameron S, Defillipi K & Krause R. Guidelines for providing palliative care to patients with tuberculosis. Hospice Palliative Care Association of South Africa. May 2011
Cameron DA. The strange case of Dr Jekyll and Mr Hyde: can we effectively manage sudden behaviour changes in the dying patient? CME2011; 29(7):278-281
Cameron DA. On Death and Dying, forty years later how well are we dying? SA Fam Pract 2009; 51(2): 125-127
De Greef A & Dean M. Palliative Sedation Therapy in the Last Weeks of Life: A Literature Review and Recommendations for Standards. J Palliat Med 2007; 10: 67-85.(Member of an international panel of 29 palliative care experts)
Woodruff R & Cameron DA. Chapter on HIV/AIDS in Adults for the Oxford Textbook of Palliative Medicine 4th edition, 2007
One chapter on the management of AIDS in Adults for The Oxford Handbook of Palliative Care. 2005 & 2008 Editions
Two chapters for "A Clinical Guide to Supportive and Palliative Care for HIV/AIDS in Sub-Saharan Africa" 2005 Edition
Cameron DA, Blitz-Lindeque JJ & Bridge D. Use of sedation to relieve refractory symptoms in dying patients. S Afr Med J 2004; 94(6): 445-449
Cameron DA. Managing Terminal Restlessness. CME 2003; 21(5): 254-257
Cameron DA. Saving the history of the defeated and the lost – ethical dilemmas in the midst of the AIDS epidemic. S A Fam Pract 2002;25:15-18
Key Presentations
Nurse-Initiation and Maintenance of Patients on Antiretroviral Therapy in South Africa: An exploration of Key Barriers and Enablers of clinical competence. Oral presentation, South African Association of Health Educators (SAAHE) Conference, Potchefstroom, South Africa, July 2011
Breaking Bad News – Can the Film, Wit, Help Students to Reflect on the Complexities of Dying? South African Association of Health Educators (SAAHE) Conference, Cape Town, July 2008

The Use of Sedation to Relieve Refractory Symptoms in Dying Patients.
The Role of Nutrition and Hydration When Sedation is used in Palliative Patients.
When Miracles Cease, International Palliative Care Conference, Cape Town, 2-4 December 2005
Resources

Read About Other International Leaders
Subscribe to IPCRC.net
New videos and content are released weekly. Be the first to know and share with your colleagues.
Or text 22828 to "TreatThePain" to join our email list
RSS FEED: RSS Feed
Follow us on:
Donate to the IPM International Programs
Donate to the IPM International Programs
Partners generously supporting the International Leadership Development Initiative: