Anil Kumar Paleri, MD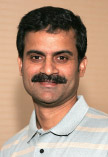 Chief Executive, Indian Association of Palliative Care, India
E-mail: anilpaleri@gmail.com
Skype: apaleri
Facebook: http://en-gb.facebook.com/anilpaleri
Twitter: http://twitter.com/anilpaleri
Dr. Anil Kumar Paleri is the Honorary Secretary (Chief Executive) of the Indian Association of Palliative Care, the national organization for palliative care in India. He has been working in palliative care for more than a decade and was the chief executive of Pain & Palliative Care Society, Kozhikode, the organization which pioneered the community based palliative care programmes in India.
Download and Read Anil's Personal Story (254 KB)
Other Appointments
Medical Consultant, Institute of Palliative Medicine, Kozhikode, India which is a World Health Organization Collaborating Center (WHOCC) for Community Participation in Palliative Care and Long Term Care.
Member, Board of Trustees, Worldwide Palliative Care Alliance (WPCA), the International Organization of National Organization's for Palliative Care.
Scientific reviewer and member of the advisory board of the Indian Journal of Palliative Care.
Member, National Faculty Pool of trainers in palliative care in India.
Key Accomplishments
Member of the team which developed training programmes for professionals (Basic Certificate Courses, Certificate Course in Essentials of Palliative Care, National Fellowship in Palliative Medicine) at the regional and national level.
Member of the team which developed the palliative care policy of the Government of Kerala (only state to have a palliative care policy in India).
Member of the team which developed Standard Operating Procedures for institutions having license to possess and distribute opioids in Kerala, India.
Responsible for setting up of palliative care programmes under the Neighbourhood Network in Palliative Care (NNPC), Kerala;
Education / Honors
Leader, International Palliative Care Leadership Development Initiative, The Institute for Palliative Medicine at San Diego Hospice, San Diego, CA, USA, 2010-2011
Post Graduate Diploma of Medicine (Palliative Care), Edith Cowan University, Perth, WA, 2003
Fellowship in HIV Medicine, Christian Medical College, Vellore, India, 2003
St. Columba's Fellowship, 2001
Post Graduate Diploma in Anesthesiology, Goa University, India, 1997
Medical Degree (MBBS), University of Calicut, India, 1992
Key Publications
Journal articles
Paleri AK. (2008) Showing the way forward: Pain and Palliative Care Policy of the Government of Kerala. Indian J Palliat Care;14:51-4
Paleri A, Numpeli M.(2005) The evolution of palliative care programmes in North Kerala. Indian J Palliat Care;11:15-8
Books
Paleri A (2005) Manual for Palliative Care. Manuals for Training in Cancer Control- Series, Published by Ministry of Health, Government of India.
Key Presentations
National Palliative Care Strategy Development Workshop. Asia Pacific Hospice Network Conference, Penang, Malaysia, 2011
'Integrating palliative care into primary health care systems: The experience from Kerala.' Regional Consultation on HIV Palliative Care and Decent Care Values in the Context of Primary Health Care in Asia, Hanoi, Vietnam, 2010
'Developing a National Strategy for Palliative Care in India.' Worldwide Palliative Care Alliance Summit, Vienna, 2009
Resources

Read About Other International Leaders
Subscribe to IPCRC.net
New videos and content are released weekly. Be the first to know and share with your colleagues.
Or text 22828 to "TreatThePain" to join our email list
RSS FEED: RSS Feed
Follow us on:
Donate to the IPM International Programs
Donate to the IPM International Programs
Partners generously supporting the International Leadership Development Initiative: