John Weru, MB CHB, MPC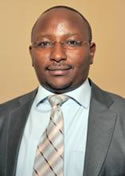 Medical Director, Thika Hospice
Thika, Kenya
E-mail: drweru@yahoo.com
Skype: weru-john
Twitter: DrJohnWeru
Facebook: john weru
Dr. John Weru is a training consultant with the Kenya Hospices and Palliative Care Association (KEHPCA), Nairobi, Kenya and as such is charged with imparting practicing clinicians as well as undergraduate students with knowledge, skills and the art needed for proper practice of palliative care .As the Medical Director of the Thika Hospice, his role is to ensure that all clinical services are provided in a quality manner and that staff are kept up to date with current practices in palliative care. He is also responsible for the setting up and running of the palliative care services at the Cancer Care Kenya and Kibera Integrated Community Self-Help Programme – Kenya (KICOSHEP).
Download and Read John's Personal Story (418 KB)
Other Appointments
Board member and Medical Director, Thika Hospice, 2011
Member, Opioid Availability Task Force, 2008-present
Member, Kenya Hospices and Palliative Care Association (KEHPCA) Scientific Committee, 2008-present
Mentor, Supervisor and Tutor, Post Graduate Palliative Care Study
Key Accomplishments
Kenya Hospices and Palliative Care Association (KEHPCA) Training Consultant. More than 10 training sessions held for doctors and other health care professionals. http://www.vimeo.com/14024811 , 2011
Consultant, Kibera Community Self Help Project (KICOSHEP). The Organization is the largest HIV & AIDS support group in the country, 2011
Consultant, Cancer Care Kenya, The first comprehensive cancer care centre in Kenya, 2011
Education / Honors
Leader, International Palliative Care Leadership Development Initiative, The Institute for Palliative Medicine at San Diego Hospice, San Diego, CA, USA, 2010-2011
Masters in Palliative Care (MPC), University of Dundee, Scotland, 2007-present
Higher Diploma in Palliative Care, Oxford Brookes University, Oxford, 2007
Bachelor of Medicine and Bachelor of Surgery( MB CHB), University of Nairobi, 2001
Key Presentations
The Socio Economic Costs Of Low Back Pain On Working Children Of Working Patients, 6th World Congress of World Institute of Pain, Miami, Florida , USA, 2012
Palliative Care Practitioners: Use of Assessment Tools and Record Keeping in Palliative Care, KEHPCA Biannual Conference, 2010
Dying in the African Setting-Audit in Palliative Care in Kenya, Multinational Association for Support and Care in Cancer Conference, Rome, Italy, 2009
Resources

Read About Other International Leaders
Subscribe to IPCRC.net
New videos and content are released weekly. Be the first to know and share with your colleagues.
Or text 22828 to "TreatThePain" to join our email list
RSS FEED: RSS Feed
Follow us on:
Donate to the IPM International Programs
Donate to the IPM International Programs
Partners generously supporting the International Leadership Development Initiative: