Ladislav Kabelka, MD, PhD.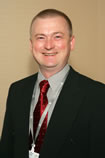 Lead physician, St. Joseph's Hospital and Pain Center, Rajhrad, Jiraskova Czech Republic
E-mail: ladislav.kabelka@caritas.cz
Skype: +420737230772
Dr. Ladislav Kabelka received his Doctor of Medicine in 1997 at Masaryk University, Brno-Czech Republic. He attended the Czech Medical Chamber in and received his licensing in Geriatrics and Internal medicine, with specialization in the treatment of pain and palliative medicine in 2004. He finished postgraduate studies in the Management of Non Cancer Palliative Care, and obtained a license in Clinical Nutrition in 2009.Other interest include the research in Geriatrics Syndrome of Dementia, Internal Medicine and the Advancement of Heart Failure. He is also involved in the research development of palliative and hospice care in the treatment of pain and non-cancer diseases, as well as providing care and bereavement to patients and care givers.
Download and Read Ladislav's Personal Story (540 KB)
Other Appointments:
President, Society of Palliative Medicine, Jiraskova, Czech Republic, Current
President of Czech Society for Palliative Medicine Czech Medical Association JEP, 2009 to current
Consultant Physician, St. Joseph´s Hospice and Pain Center, Rajhrad, 2003-2007
Junior Physician, later consultant physician, Department of Geriatrics, Nursing and Practitioner Medicine, Faculty Hospital Brno- Bohunice,1997-2003
Hospital attendant, Department of Internal Medicine and Cardiology, Faculty hospital Brno- Bohunice, 1992-1993
Key Accomplishments
Chairman, Czech Society of Palliative Medicine
Czech Medical Society of J.E. Purkyne
Czech Geriatric and Gerontologic Society
Education / Honors:
Leader, International Palliative Care Leadership Development Initiative, San Diego, CA, USA, 2010-2011
Clinical placement, Princess Alice Hospice Esher and St. Christopher's Hospice Sydenham, London, England, 2004
Salzberg-Cornell Seminar in palliative care (Open Society Fund) Salzberg, Austria, 2003
Training in palliative care for General Practicianers, 2002
Palliative care in oncology(GlaxoWelcome project Hope), seminar, Bmo, 1998
Clinical placement, Dept for Hypertension, Arterial and Vascular disorders, Civil Hospital, Strasbourg, France, 1996
Clinical placement, Centre de Cardiologie clinique et interventionnelle, Hopital du Bocage, Dijon, France, 1995

Read About Other International Leaders
Subscribe to IPCRC.net
New videos and content are released weekly. Be the first to know and share with your colleagues.
Or text 22828 to "TreatThePain" to join our email list
RSS FEED: RSS Feed
Follow us on:
Donate to the IPM International Programs
Donate to the IPM International Programs
Partners generously supporting the International Leadership Development Initiative: