Zipporah Ali, MD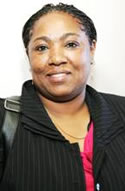 National Coordinator Kenya Hospices and Palliative Care Association (KEHPCA)
E-mail: zippy@kehpca.org, zippyali@yahoo.com
Dr. Zipporah Ali works closely with the staff and board of Kenya Hospices and Palliative Care Association to ensure that all objectives of the association are met. She is focused on networking with all hospices and palliative care centers through the country. She promotes and encourages palliative care research throughout Kenya. She is an advocate for creating awareness nationwide, including among the public, NGO's, Government and Legislation. Her passion to make everyone aware of and access to Palliative Care is shown through the many workshops she organizes on Palliative Care Advocacy and Awareness, Essential pain medication and other relevant issues.
Download and Read Zipporah's Personal Story (526 KB)
Key Accomplishments
Appointed Acting National Coordinator, Kenya Hospices and Palliative Care Association (KEHPCA)
National Coordinator, Kenya Hospices and Palliative Care Association (KEHPCA)
Education / Honors
Leader, International Palliative Care Leadership Development Initiative, The Institute for Palliative Medicine at San Diego Hospice, San Diego, CA, USA, 2010-2011
APCA award – For contribution and commitment to Palliative care in Africa through setting up the African palliative care Association (APCA), 2007
Higher Diploma in Palliative Care, Oxford Brookes University in conjunction with Nairobi Hospice 2002Student-Masters in Palliative Care LDL, University of Dundee, 2007-present
Palliative Care Mentorship For Students, Oxford Brooks University, School of Health and Social Care (Mentored students for higher diploma in Palliative Care) June 2004- July 2005
Master of Public Health (MPH), Department of Community Health, University of Nairobi; 1997-1999
Doctor of Medicine (MD), Aegean University, Izmir, Turkey, 1986
Certificate of Turkish Language, Ankara University, Ankara, Turkey, 1980
Key Publications
Journal articles
Discovering Your Voice, Afya Digest magazine, October 2009
Palliative Care in Kenya, Doctors News Magazine, June, 2008
Palliative Care in Kenya, Afya Digest Magazine, June, 2008
Ali Z; 2004; Palliative Care in Kenya; the APCA Journal of Palliative Care. Vol 1. June 2004
Downing J and Ali Merdin Zipporah; 2006: Palliative Care Associations; In a Clinical Guide to Supportive and Palliative Care for HIV/AIDS in Sub-Sahara, Africa

Read About Other International Leaders
Subscribe to IPCRC.net
New videos and content are released weekly. Be the first to know and share with your colleagues.
Or text 22828 to "TreatThePain" to join our email list
RSS FEED: RSS Feed
Follow us on:
Donate to the IPM International Programs
Donate to the IPM International Programs
Partners generously supporting the International Leadership Development Initiative: